Get Involved.
---
1. Subscribe to the Atlas Shrugged newsletter.
Things are changing rapidly. Enter your email address and click the "Subscribe" button now to be the first to hear the latest. (No. You will not be "spammed." This is Atlas Shrugged.)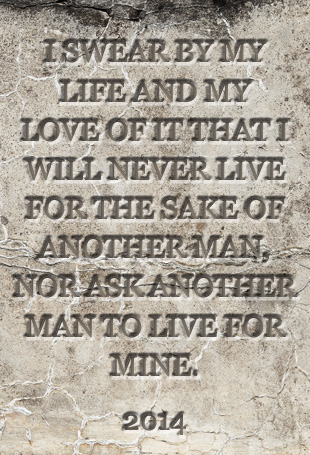 2. Demand Atlas!
You want Atlas Shrugged Part 3 playing in a theater near you? This is how to do it.

Click that "Demand Atlas!" button to the right, enter your zip code and e-mail address, and we're on our way to a theater near you.

The more people "Demanding!" Atlas Shrugged, the better so, tell your friends.

When done, move on to the next step...
3. Link to the Official Atlas Shrugged Movie Web Site
Got a blog or web site? Help us rank higher on Google by linking directly to us with the following code:
Click on the text area above, then right-click and select copy.
4. Share Atlas Shrugged web banners, videos and flyers
Share Atlas Shrugged: Who is John Galt? digital assets on your blog, web site, and social channels:
5. "Like" the official Atlas Shrugged facebook page
Crash land in the Gulch - make sure to hit the "like" button to subscribe to updates:
6. "Like" the official Atlas Shrugged Movie web site
Like the Official Atlas Shrugged Movie web site now:
7. Follow Atlas Shrugged on twitter
Have a twitter account? So do we:

8. Share Atlas Shrugged on twitter
Tell your twitter followers:
Tweet
9. Subscribe to Atlas Shrugged on YouTube
Subscribe to us on YouTube and "like" our videos:

10. +1 Atlas Shrugged on Google Plus
Help us reach the top of Google's search results: